ENPHASE MICRO INVERTERS WITH TRINA PANELS
The customer had previously paid a deposit elsewhere and then cancelled the order when they were asked for payment before it was installed. A good decision which turned out to be even better when they found a local company with a better price!
The maximum legal deposit is 10%, if a company asks for more than that it is a warning sign. They may be in financial trouble or have a disregard for the industry regulations in general.
Install of the week goes to this Flat Roof 10KW Enphase system on the coast.
Flat roof installs generate a little less in winter but have a higher overall annual output. They look much better and allow more panels because they do not need to be
spaced apart to avoid shading. Using tilt frames is somewhat dated and is no longer considered best industry practice, so where it can be avoided and particularly in high wind areas, we would advise against tilting.
Installing up and down the coast, we have a lot of experience with beach, lake and harbour side installs. All our products and mounting equipment is rated for coastal environments.
ENPHASE MICRO INVERTERS AND LG 330W PANELS
This 9kW install with Enphase Micro Inverters and LG 330W Black Frame Mono panels was hard to pass up as install of the week.
A good example of where a site visit may be required, where there may be limited roof space, difficult access or design complications to consider.
Because of the flat roof areas we were able to gain access to the steep parts of the roof. The Micro Inverters overcome the shade issues but just as significantly the five different angles that panels were installed at.
Surprisingly, provided the right materials and products are used there is usually a practical way to get the job done.
SOLAR EDGE 3 PHASE WITH LG PANELS
This off grid system installed with SMA and SMA Island (the off grid storage inverter on the right) was fitted with Tigo DC optimisers due to some shading. There are some really good short films on our Youtube channel on panel optimisation.
You can check them out here https://www.youtube.com/channel/UCJ-dbrPdqDOcqPllSn2G4DQ
COMMERCIAL INSTALLATION'S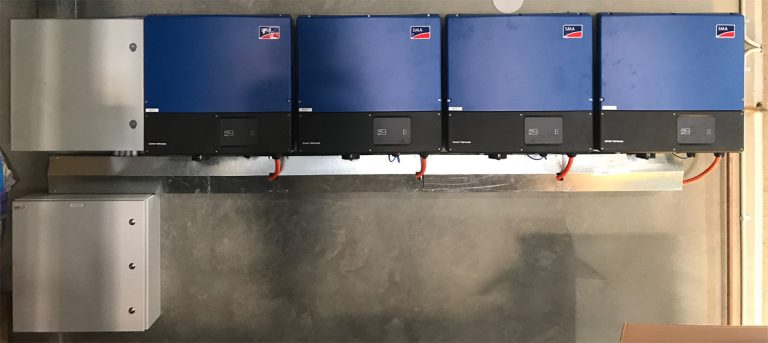 100kw Commercial installation
This Automotive dealer chose All Green to install their 100KW system as an investment rather than a calculated risk.
Our ability to install large scale projects in a short time, stability of the business and reputation helped make it an easy decision. We also minimised the risk of failure and downtime in the system.
10kw Commercial installation

This bowling club chose wisely when adding another 10KW system recently. The company that installed their previous system went into liquidation a few months after we completed their latest project.
While they were lucky (or well informed as the case may be) thousands of other residents in Newcastle have been left without any after sales service in 2018 as a result. It's no surprise that the company previously traded under a different name and are still trading under a new name.
All Green has been trading under the same name and installing solar for 10 years and offers 10 year service warranty with solar systems installed by staff rather than contractors.
250 panels with Enphase Micro Inverters
The Royal Hotel Singleton now has this 250 panel installation with Enphase Micro Inverters.
Enphase technology overcomes the complicated roof space on this site where there are multiple angles and shade to deal with. Because each module works individually the impact of shade and the roof facets is minimised allowing for maximum output from each unit.
If there is ever any storm damage it would be isolated to the affected modules allowing the rest of the system to keep working therefore the risk of system downtime or failure is minimised. If a panel were to fail it would affect less than 0.5% of the system and it would notify the customer and All Green.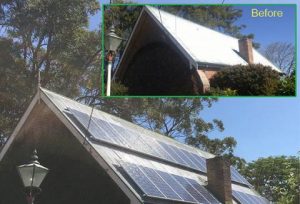 This old church building presented us with some challenging install complications. The back of the building required scaffolding and the front a boom lift due to the pitch of the roof. It also had a raked ceiling, shade from the chimney and no room for an inverter next to the meter box. We overcame these problems by using Enphase.
Too often installers and customers are put off by site complications but this install proves that when both parties work together the problems can be overcome. The additional requirements do add to the cost however the project remains economically viable in most cases.